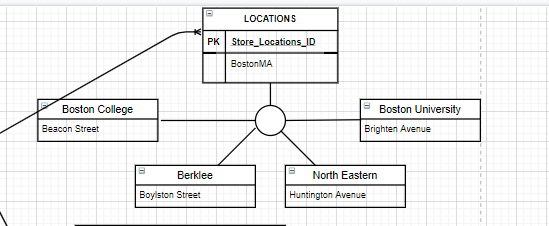 Hello! I am making a restaurant database and here's what I have:
I have my supertype LOCATIONS and 4 subtypes Boston University, North Eastern, Berklee, and Boston College.
I am having trouble understanding the syntax of creating supertype and subtype connections in Oracle SQL Developer. This is my code so far:
CREATE TABLE LOCATIONS (
Store_Location_ID NUMBER (10,0) NOT NULL,
BostonMA VARCHAR2 (20) NOT NULL,
CONSTRAINT LOCATIONS_PK PRIMARY KEY (Store_Location_ID)
);


CREATE TABLE Boston_University (
    AStore_Location_ID  NUMBER (5,0)  NOT NULL,
    Brigten_Avenue      VARCHAR2(20)        ,

    CONSTRAINT  Boston_University_PK PRIMARY KEY (AStore_Location_ID)
    );

            SELECT BostonMa, Botston_University
            FROM LOCATIONS
            JOIN Boston_University
            ON   LOCATIONS.STORELOCATIONID = Boston_University.ASTORELOCATIONID;

I have no insert code yet and I have no other SELECT, FROM, JOIN, ON command for the other locations, I simply want to know if my syntax is correct because I dont want to continue if my syntax is wrong.
Can anyone help me?