Hi All
I would be grateful if you can help me to calculate the RunRate(forecast) on the following table .
The run rate will be calculate only on the future months on the field 'im_actual' , and the completed months (Past_Months) the value of 'Im_actual' will be same.
The field 'int_period' keep Fiscal months , so the completed month are , Apr(1) and May(2) where , June(3) onward are future month where we need to calcuatel ForeCast/RunRaate,
The completed month we don't need to calcuate and the 'Im_actual' values for completed will be same as exist in the table/field(im_actual) ,
To calculate the Forecast/RR for future months. it should sum of the completed months so in this case will be i.e. (1 and 2) and divide by 2(last completed month), so the calculate valurs for month (3 to 12) will be constant values.
Similarly, if I wants to calculate the Fore-cast after the month June(3) completed , the future Forecast will be sum of (month [1 to 3] and divided by 3 and this same/constact values will show for furtre moths 4 to 12..
The dummy data set script I've copied below
I've tried using recursive sql and UNION by split into two data set but not successfull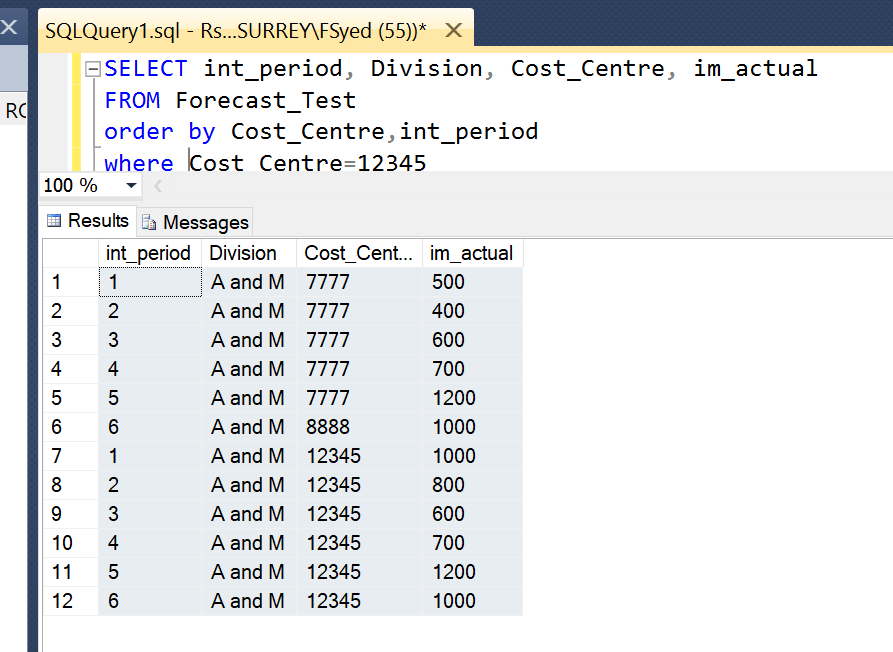 Thanks Again , if you have any question please feel free to ask me
Many thanks
Farhan