Hello to everyone.
I´m writing because I have a problem extracting the last value of a field
the code that i wrote is similar to this one
SELECT
,substring(RUT,1,length(RUT)-1) AS TEST_1
RUT
FROM TABLE1
the result that i need should look like this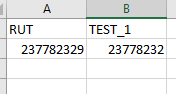 Keep in mind that RUT is INTEGER so i don´t know is that could be a problem.
Regards.