Hi,
I'm new to SQL so be kind to me...
Until now I used Access as Database Manager, but I had to migrate all my DBs to a SQL server.
Now I just use Access as Front-End and [Microsoft SQL Server Management Studio] as Back-End.
The SQL Server is 14 something...
But that's not the actuel problem here.
I made a sample DB (in Access) because of our data confidentiality...
The main table (tblCaddy) is the shopping caddy which may contain none or more vegetables (tblVegetables), fruits (tblFruits) and/or drinks (tblDrinks).
How many vegetables, fruits and/or drinks the caddy contains, I have the 3 intermediary tables (tblVegetables_in_Caddy, tblFruits_in_Caddy, tblDrinks_in_Caddy).
I already tried lots of things, read plenty of web pages about Pivot, but until now I'm still digging in the dark...
What I want to archieve is a query which will show all the Caddy content per CaddyOwner by row, like in the attached picture (done with Excel).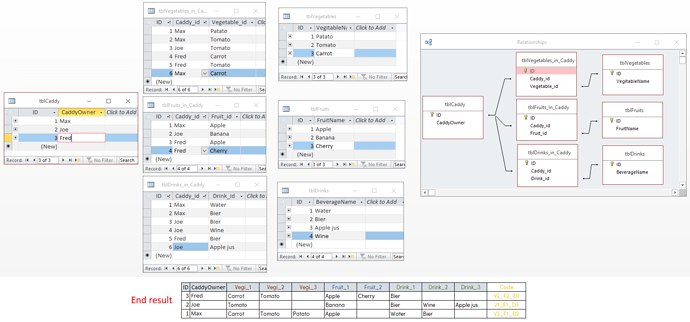 The number of columns will change depending of how many items a user has in his Caddy.
The last column ('Code', orange color) is optional, but if someone knows how to do it, I would be gratefull for that. The 'Code' is a concatenation of the number of Vegetables (Vn+1), number of Fruits(Fn+1) and number of Drinks (Dn+1) separated by an underscore ('_').
Does someone have an idea how to solve this problem?