Hello,
I need to determine the minimum date for an ID associated with a product. The ID can change to another and than return to the original. I need the minimum date for the active sequence of the ID.
A few examples in the table below - in green the date that I want for each product.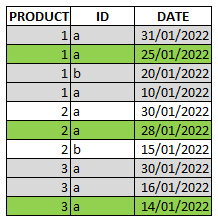 How can I do this with a query?
Thanks.
Jorge