Hi Experts,
I am trying to set up a linked server on my SQL 2016 using ODBC from ServiceNow (external application).
I have two ODBC set up. ODBC 32 bit and 64 bit. I need 32 bit because that what my other SSIS process.
The ODBC connection on both version are successful.
However, I keep getting error: 7303 every time I am trying to setup Linked server. According to some of the article, that issue because the SQL server that suppose to use 64 bit keep using ODBC 24 bit.
I am struggling to force SQL server to use ODBC 64 even though I have specify the System DNS of 64 bit.
This is the error message that I am having using ODBC 64 bit.
Cannot initialize the data source object of OLE DB provider "MSDASQL" for linked server "SERVICENOW".
OLE DB provider "MSDASQL" for linked server "SERVICENOW" returned message "[SN][ODBC ServiceNow driver][ServiceNow Client]Failed to initialize the Service component.". (Microsoft SQL Server, Error: 7303)
For help, click: https://docs.microsoft.com/sql/relational-databases/errors-events/mssqlserver-7303-database-engine-error
This is the snapshot of my ODBC 64 bit:


This is snapshot of my Linked server setup: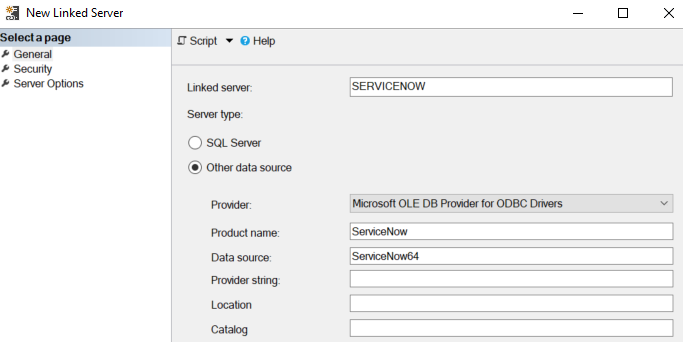 Can someone help please?
Cheers,
Susan