Hello everyone,
When i am trying to connect to ssms through one of the instance, i am getting below error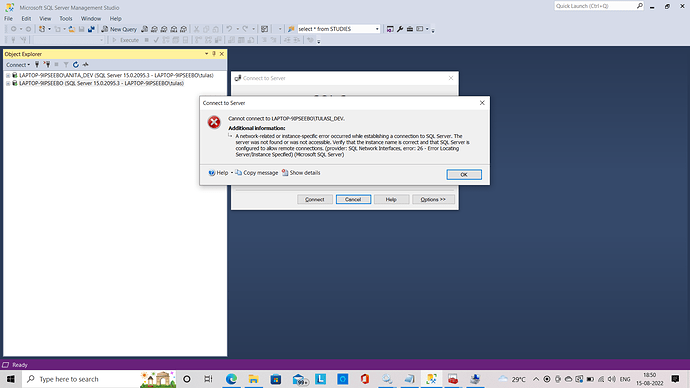 '
TITLE: Connect to Server
Cannot connect to LAPTOP-9IPSEEBO\TULASI_DEV.
---
ADDITIONAL INFORMATION:
A network-related or instance-specific error occurred while establishing a connection to SQL Server. The server was not found or was not accessible. Verify that the instance name is correct and that SQL Server is configured to allow remote connections. (provider: SQL Network Interfaces, error: 26 - Error Locating Server/Instance Specified) (Microsoft SQL Server, Error: -1)
I tried all the options such as trying to start the instance through sql server configuration manager and services however could not.
Can someone help me out in resolving this issue. I am very much new to sql server and trying dba concepts in practical manner.
Regards
Tulasi