TABLE A TABLEB
ID Model ID Segment
1 FAN 1
1 FAN 2 FAN
1 Mouse 3
1 FAN
2 FAN
2 FAN
2 FAN
2 FAN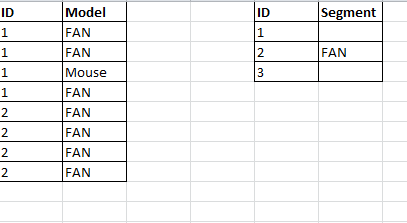 If all the model for TABLE A is FAN for Specific ID like in above case all MODEL are FAN for ID 2.
I want to update TABLEB Segment value to FAN with ID 2. if all value is not fan i dont want to update
TABLEB.
Thanks a lot in advance for help.