Hi There,
I'm trying to write a query that sets a batch of rows to have a single uniquely generated ID on the fly. Tried lots of things and just can't get it right.
Below are sample scripts to create the table and insert some test data along with two update queries that do not give me the desired results. I understand why they do not achieve what I'm looking for they are really there to show the kind of things I have tried.
Here is an image of what i want the reults to look like. All ref numbers that match have the same uniquely generated ID. Any input would be appreciated, i might have to go a different route and happy to do so if there is a better option. Thanks for looking.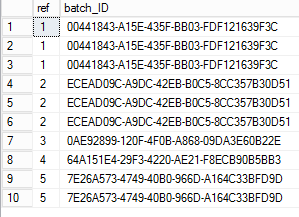 -- CODE SAMPLES
CREATE TABLE ##temp (
ref VARCHAR(MAX),
batch_ID VARCHAR(MAX)
);
INSERT INTO ##temp (ref) values(1)
INSERT INTO ##temp (ref) values(1)
INSERT INTO ##temp (ref) values(1)
INSERT INTO ##temp (ref) values(2)
INSERT INTO ##temp (ref) values(2)
INSERT INTO ##temp (ref) values(2)
INSERT INTO ##temp (ref) values(3)
INSERT INTO ##temp (ref) values(4)
INSERT INTO ##temp (ref) values(5)
INSERT INTO ##temp (ref) values(5)
select * from ##temp
-- DELETE from ##temp
-- update queries
--1
DECLARE @random_guid VARCHAR(250);
SET @random_guid = NEWID()
update ##temp set batch_id = @random_guid where ref=REF
--2
update ##temp set batch_id = NEWID() where ref=REF
DROP TABLE ##temp